Blessed with endless seas, velvety sands, and lush greens, Goa is a magical conundrum of fun that any traveler would love to get into. We don't have to write a lot to express what memories Goa would bring to your life. The diversity Goa has as a tourist spot is truly commendable, dapped into its pristine beaches and flamboyant lifestyle is what attract thousands of people from all across the globe. You can visit numerous churches, enjoy spikes of Adeline through jet skiing and book yatchs for rentals, accommodate in Riverside Goa Villas or luxury villas in North Goa, and of course last would be the world acclaim parties Goa host.
Here are some of the most delicious attractions Goa fosters-
Baga beach
Baga beach is what the idea of Goa was actually built around. You haven't been to Goa if you haven't visited Baga beach. Decorated with a million beach activities, you won't get bored at this place. There is always something going on at this beach side. Also, if you want some private time, you can check out this place early morning, it's too clam to be true.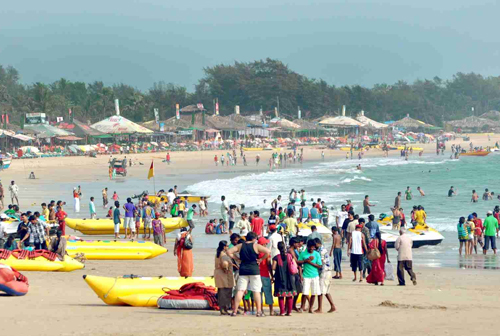 Fort Aguada
This Portuguese architecture is standing tall right from its inception in 1612. The fort was originally built as a defense mechanism against the Dutch and Marathas. The place also holds a one of kind lighthouse which is open for tourist. Sightseeing here will beautifully slide in your schedule in the hot afternoon. You can barge here to escape the sun and explore the immense architecture, then return to the beach as you see fit.
Bom Jesus Basilica-
Goa's spirituality is somewhat connected with this church as the incorrupt body of ST. Francis Xavier is preserved at this very place. The church is a crucial aspect of Goa tourism today. Also, the artistic tourist will cherish their time in the Modern Art gallery which is a prime part of Basilica.
Casino Cruise –
For the people, up for a Vegas-styled gambling, Goa provide them an opportunity to try their luck in the most lavish way. Originally a restaurant mounted over a cruise, this 24×7 cruise will bring the sense of most lucrative lifestyle. The place bounces back to life after 9 PM when the DJ is up on the deck and the game is on off the deck.
Anjuna Flea Market-
A tourist might explain Anjuna with wildest parties and fast nightlife, but it's so much more. The Anjuna Flea market is operational only in the mid-November and is traditional Goa at its peak. There is a funny story behind the inauguration of this market. One day all the hippies from the west started selling their belonging in order to fund their trip which triggered the idea of this market. Earlier they sold their clothes, jeans, bags etc. Today, things from all around the world are retailed in this historic market.
The best thing about Goa is that you can rent entire Luxury Villas in North Goa or South Goa and spend the best time of your life. Go for sightseeing in the morning and come back to host your own private pool party.